A custom phone number – whether toll-free or local, vanity or easy-dial – can help you stand out and connect more effectively with your target audience.
Please call email or text for more information great boost for your ads
---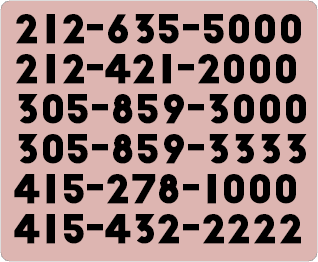 MOVE YOUR NUMBER TO YOUR CARRIER THE SAME DAY!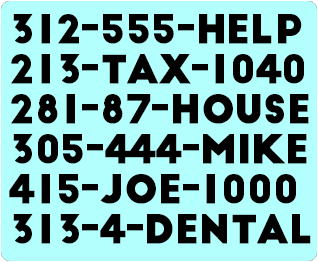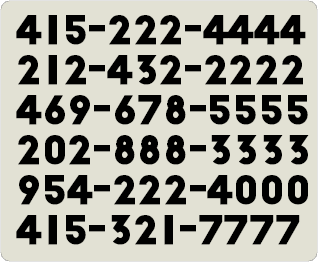 WE GET HARD TO FIND NUMBERS STUCK AT OTHER CARRIERS




WHY LEASE WHEN YOU CAN OWN YOUR NUMBER!
---
HERE IS A SMALL SAMPLE OF 1000's OF Just Released NUMBERS
---
SMALL SAMPLE OF EASY LOCAL NUMBERS
---
212-445-4444 212-227-2000 213-333-3333 203-323-3000 215-500-5000 281-222-2222 248-888-8888 305-355-0000 310-210-1000 301-333-3333
SMALL SAMPLE OF EASY TOLL FREE NUMBERS
---
800-892-2020 800-877-4000 800-581-1234 800-763-3000 800-731-0000 800-900-9909 800-958-1000 800-894-2000 800-570-3000 800-838-5000
SMALL SAMPLE OF GREAT VANITY 800 NUMBERS
---
800-999-CASH 800-DISCOUNT 800-MY-CREDIT 800-THE-BACK 800-800-CASA 800-866-ROOF 800-700-MOVE 800-700-CARE 800-567-INJURY 800-407-HOME
WE ANSWER THE PHONE 7 DAYS A WEEK.CALL OR EMAIL FOR A FREE NO OBLIGATION NUMBER SEARCH!
Vanity123 features easy VANITY 800 NUMBERS & EASY LOCAL NUMBERS!
- PROOFS TO MOVE YOUR NUMBER TO YOUR CARRIER ISSUED THE SAME DAY. - You can use our carrier at only 1 penny a minute.
Tell us about the Vanity Toll Free or Local number you're looking for.
-
Easy words numbers
-
Free lookup help
-
Move to any carrier
-
Own your number
-
Real 800 numbers
-
Hard to find number specialists
-
Free vanity search
-
Bulk 800#s available
Confidential Request Form
A
vanity number
is a phone number — often a toll-free number — whose corresponding letters on the alpha-numeric telephone keypad spell the name of business, a service, a product or an acronym. Businesses choose them because they are easier for customers to remember, they help with branding, they generate more calls and they're easier to advertise. When a business has a vanity number, it also gives the impression of credibility.
People Remember Them and You
Vanity Phone Numbers Reinforce Your Brand
Vanity Phone Numbers Lend Credibility to Your Business
Even in the Age of Websites, People Still Remember Phone Numbers
Your Customer Service Improves
Vanity Phone Numbers Broaden Your Market
WHY ARE TOLL FREE NUMBERS SO POPULAR FOR ADVERTISING?
800-888-877-866-855 & Soon 844 Anyone watching Television or listening to Radio commercials will soon realize that the majority of commercials use a toll free number. Since there is now a choice of toll free exchanges, there is a variety of numbers used from 800#s to the latest exchange 855. Vanity123.com has numbers in all of the exchanges. Some advertisers wonder why they should still use a toll free number when many consumers now can make basically "free" calls from their cell or home phone.Originally the idea of a toll free number was to save the consumer the cost of the call. All of this has now changed and the main purpose of a toll free number is the ability to give the impression that the advertiser is a large company, in some cases much larger than they really are. It also gives the impression that they have been in business long enough to acquire an easy toll free number. All of this means credibility and adds confidence to the caller even before they pick up the phone. Our support staff is here to help you 7 days a week with any questions.
800 phone number benefits and features:
Expand the geographical coverage
Enhance your brand image
Highly flexible call options
Increase inquiries
Same day transfer
1 cent low rate per minute
WHY SHOULD I CHOOSE AN EASY LOCAL NUMBER INSTEAD OF AN 800#?
Vanity123.com
 also has a large list of easy local numbers with words and numbers in every USA area code. Local numbers are used more and more where the advertiser wants to give a local presence. This would be true for example, where a termite company is in one county and wants to get a local number in another location to give callers a comfort level that they are reaching a local business and not one many miles away. Customers like to support local companies knowing that should a problem arise, the company is close by with support. More and more local professionals such as doctors and lawyers are looking at easy local numbers ending in such words as DENTIST - SMILE - LAWS - HELP - WORDS AND EASY NUMBER FOR ANY PROFESSION OR BUSINESS. It is almost impossible to get an easy local # from your usual carrier. 
https://vanity123.com

 
can set you up in 24 hours with an easy number to move to your carrier. Again, our personal support staff is here to help you 7 days a week to answer any questions.